Two reasons not to read this post:
(1) It's simply a plug for myself. Now you might even stop reading after I write that, but hey, I figure everyone has the right to be conceited every once in a while. Some feel they have this right more than others, but I am not one of these people. I simply just realized that time has slipped away from me, & I must complete five more blogs before Wednesday, & I figured writing about myself would be fairly easy considering that I've been stuck with myself for twenty-one years.
(2) It's another post about Matthew Shepard. Therefore, you may grow tired of reading about him.

One reason to actually read it:
(1) It's another post about Matthew Shepard, who is a very good documentation of hope in the face of judgement & sorrow.
ANYWAY, this post will simply contain a poem that I wrote about Matthew Shepard this year & two mixed media pieces that I did about him when I was eighteen (as a parenthetical aside, sorry for the bad picture quality; I am no photographer). So here goes nothing...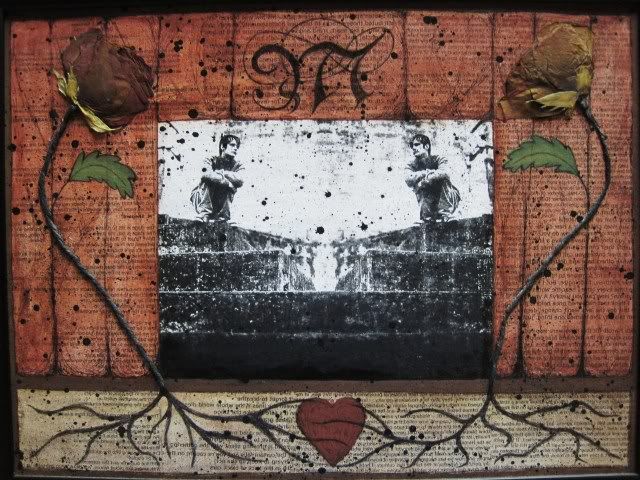 "THE LONESOME WALTZ OF MATTHEW SHEPARD"
Oscillate wildly in the northern lights
of Aurora Borealis-bent, motion-pictured lives,
staccato—black like crows, then white like doves
on all the ghosts on the floor two-stepping for love,

but he's rooted to a bar stool with the alcohol,
neglecting local newspaper coverage of the Fall
of Mankind, thus befriending two wingless men,
who led a lonesome waltz with the touch of a hand.

Stepping: one-two-three, two-two-three, three-two-three, four,
as the pair of black hearts danced in time out the door
& led a tiny, young Icarus to a cold, damp street,
where September showers & Jack-o-lanterns meet.

As through the looking glass, the Queen of Hearts
put the knave on trial for stealing her tarts,
so with graceful tongues are prisoners lured
to be tied to the gallows for something absurd.

So they danced him like a scarecrow to an empty field,
where seeds of hate were sewn, what did harvest yield?
for Hopeful, young Icarus, too close to the sun,
with battered wings broken at the butt of a gun,

tied & bound like Prometheus to a wooden fence
looking just like a scarecrow, but too scared to dance.
He was simply waltzing with the footsteps home,
but they sashayed him to the hospital.

They say Pandora's Box only opened up violence,
but a Butterfly of Hope flew out from the silence,
so when you think that Hope was all his head,
a thousand angels danced around his deathbed.