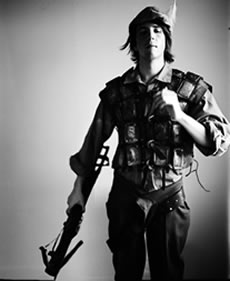 Amidst all the insanity of finals & dodging random tramplings on Black Friday (jobs in retail are killer), I did manage to do at least one thing that was enjoyable. On November Twenty-First, I saw a show at the Variety Playhouse. The Mountain Goats headlined, but I really went to see Final Fantasy, & no I'm not talking about the old Squaresoft video game series (which is amazing as well). I'm talking about a fellow named Owen Pallett, who also loved the video games, so much so that he named his musical project after them. Some people may have heard of Owen Pallett, because he is also in the Arcade Fire & wrote the string arrangements for their albums.
I saw Owen once maybe three years ago at the Drunken Unicorn, which was probably one of my favorite shows of all time. It was just him with a violin and a loop station, so he could loop all of the violin parts and sing over them. He even did his own percussion by hitting the violin different ways and looping those sounds as well. It was… amazing. This time, there seemed to be a lot more douche bags at the venue, and Owen had a drummer who seemed to be far too drunk to play anything very well. Still pretty good though; they were at least having a good time.
He played a lot of songs from his first release—
Has a Good Home
. This was definitely his most heartfelt release in my opinion. Some great songs, such as "This is Dream of Win & Regine," which is a play on the DNTL song "(This is) the Dream of Evan and Chan." Win & Regine are the couple who formed the Arcade Fire. Good lyrics too: "Crown myself the prince of buzz / Can't wait until you, can't wait 'til you unsubscribe / I'll be a lonely scribe" & "Montreal might eat its young / But Montreal won't break us down!" Here's the 2005 music video:
Owen also played some off his second release—
He Poos Clouds
. Funny title, eh? He came up with it one night when he was
really
drunk supposedly. Eight of the ten tracks on this album are about each of the schools of magick from the role-playing game Dungeons & Dragons. He actually won the Canadian Polaris Music Prize for this album though. Here's a good song about falling in love with characters in games & books.
And last but not least, he played some songs from his upcoming release—
Heartland
—to be released in January (hopefully). This album is about a farmer named Lewis, in a fiction world that Owen created, called Spectrum. It should be pretty interesting. He used a synthesizer for these songs, and even ran his violin through different synthetic settings, which made a
really
interesting sound. Here is "Lewis Takes off his Shirt" from that upcoming release:
To end on a lighter, funnier note, here is a video of Owen covering Mariah Carey's classic, "Fantasy:"